Ah, yes, the proverbial white picket fence–with some beautiful landscaping to boot!  If you've decided to sell your home, you're facing more than a wee bit of work, and the best next step you can take is to call a Realtor(R) who can help you through this process.
It's a wonderful time to be selling — in fact, because we have exceptionally low inventory, we are confident you will get a good deal of interest in your home (and a good price for it).  It's a sellers market right now.
Once you decide to sell, a sensible first step is to request from us a Comparative Market Analysis, a "comp" of your home.  Comps will reveal what similar homes in the area have sold for, how long they stayed on the market, and — by extension — what you can reasonably expect to get for your house.
Then you need to begin the process of detachment from the home you've lived in, and loved, for several years.  Let's get even more specific. Because you've lived in this home for years, you know exactly how one must pull back hard on the front door latch so it will pop open like it's supposed to.  And if that rings true, you'll be able to understand the first lesson of successful selling: you must detach yourself personally and psychologically from your home.  When your home goes on the market, it needs to appeal to a wide variety of potential owners.
Getting the house ready to sell is obviously an important lesson.  Location is important, but that's just one element.  The condition of your home more often makes – or breaks – a deal.  You'll need to face a few issues that you may have, ummm, swept under the rug for a while.  If, for instance, there is an annoying leak under the bathroom sink, you're going to want to get that repaired. In short, you are going to need to address all those issues that may have been mere frustrations or inconveniences to you but would be a "dealbreaker" for a potential buyer. Every serious buyer will request a home inspection. Need some professional help with those repairs? Just ask us for a list of approved vendors in and around Nashville.
Next, depersonalize (that's part of detaching).  Pack away the children's art projects and your tennis trophies.  Remove all clothes from the closets that are not being worn this season.  Remove all the wedding photos from the walls; in fact, leave only one or two items on any wall.  Declutter the entire house (yep, the garage, too!).
Are there inexpensive improvements you might make to give your home a newer, fresher feel?  For instance, could you replace the drawer pulls and knobs in the kitchen with new ones?  (You can get 6 stainless steel knobs at Target for about $12).  Which overhead lights really should be updated?  And how about that annoying front door lock?  If it sticks badly, it's worth the $25 to install a brand new shiny lockset.  How about some fresh paint?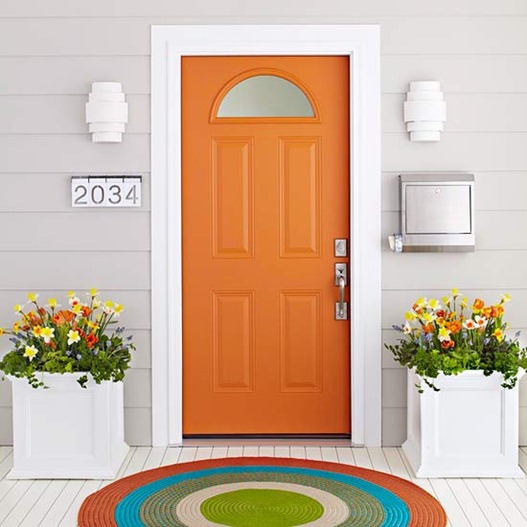 You love your purple bathroom and your mustard-hued dining room – but most buyers won't.  Pick a neutral color (but neutral does not have to mean beige, by the way).  Color has great psychological properties.  A pale yellow will make the room seem lighter, brighter, and perhaps larger.  Light green and grayish-blue are good choices as well.  Don't be afraid to include a "pop" of color, too – perhaps a tangerine-colored front door.  If you're really motivated, repaint the baseboards and the ceiling, too.
Let's now turn our attention outside.  Does the house look warm and inviting from the outside?  Is the street address visible?  Does the porch light work?  Is the walkway nicely done – and are there attractive plants or flowers, the yard mowed, the leaves raked, or the snow cleared?  Many potential buyers will do a "drive by" and make a decision whether or not they want to explore the inside, so making the house attractive from the outside, the "curb appeal," is absolutely vital.
You've updated.  You've decluttered.  You've cleaned top to bottom. But before you open the house to visiting buyers, also make sure the house smells perfectly clean.  Clean the cat litter box every day, and spray disinfectant an hour before the first showing appointment.
Finally, your Realtor(R) will be able to advise you on an appropriate price to ask for your house.  By running "comps" (comparisons to other similar properties that have sold in the same area over the past six or tw
elve months), you will be able to see if the price you want for your house is w-a-a-y above your area's comparable houses or whether it is priced accordingly.  Your Realtor serves you, so you should go on and ask any of those many questions you have.  In fact, you should discuss details such as your personal timeline, how offers will be presented to you, what steps you need to take once an offer has been made, which items may stay with the house (typically, major kitchen appliances, blinds, etc.) and which items are personal property.  You probably have a dozen more questions, so now's the time to get those answers.
To summarize, selling is really all about detaching. And one more word?  Moving will also be an emotional experience for your children — and for your pet — as well.  Please don't overlook their needs.
---
Parks, a division of Bob Parks Realty, is located at 4025 Hillsboro Road, Suite 601, Nashville,
TN 37215.  We're in the Hill Center.  Our office phone number is 615 383 6600. Sharon:  TN License # 325136.